Thursday, August 18th, 2016
---
5:22 pm
- The Magician's Choice
It's a striking story set in the 1920s about an assistant who disguises themselves as a magician but then the lines blur over who they really are over time. A melancholy story about being trans before the word even existed, combined with a magic-pun filled narrative and a little bit of nakedness, but not really the sexy kind.
I just hit my $400 a month 'I make minimum wage for my hours spent drawing' goal- if we make it to $500 the main site will start getting an extra update a month so everyone benefits!
Friday, August 5th, 2016
---
1:25 pm
- President Pam Pacifist the Trans Woman Troll
http://www.discordcomics.com/minoritymonsters/23-president-pam-the-trans-woman-troll/
Happy August! This was double my usual monster length so it took 2 days of drawing, sorry about the delay.
I find trans comics can be very divisive- people either read it and identify with it completely or hate it and feel like it's not representing them. I hope it's obvious here that this is about Pam finding what's right for her and that all trans people have the right to medical/magical transition if that's what feels right to them. So much trans stuff is focused on bodies so I just wanted to write something about a badass career woman who's trans but also commands complete and utter respect for herself and her gender. It's also very relevant to the current political climate!
The gorgeous pun 'Bi-ness' was sent in by a reader- next month I'm hoping to do a comic about Princess Pan-elope and the polysexual principalities.
12:43 pm
- I'll be back in NYC for Flamecon 2 this month!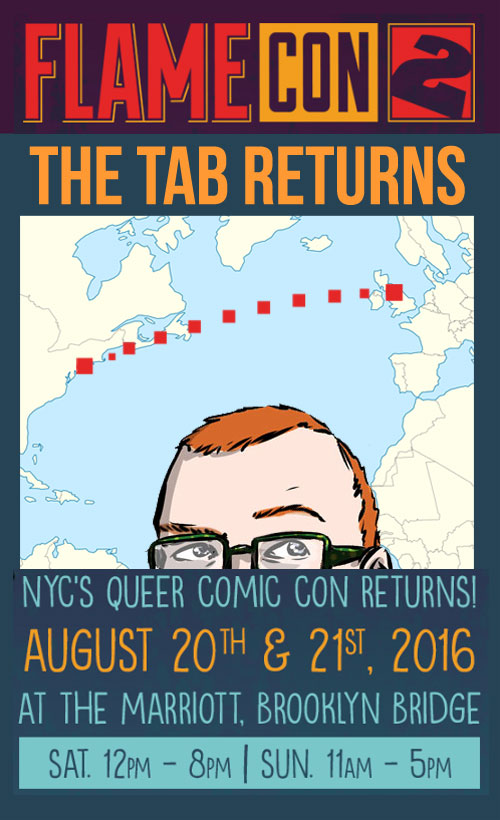 Damn that snuck up fast- I'm excited and delighted to confirm that I'm back at Flamecon NYC this year, table sharing with Morgan from the fantastically funny What's Normal Anyway. I'll also be taking part in a panel with several other artists on The Importance of Queer Erotica- looking forward to seeing some of your faces there! :D
Wednesday, August 3rd, 2016
---
10:02 am
- Sir and Boy ~ Beating Around the Bush ~ Page 13
When writing these stories I get a mix of dialogue and stand out images in my head which I then write down and fill out the gaps. The last panel is one of the images that stood out in my mind- I think it's just lovely!
Wednesday, July 27th, 2016
---
10:52 am
- Sir and Boy ~ Beating Around the Bush ~ Page 11
The bottom panel is one of my favourite panels ever. So much BDSM is about the sub's reaction I wanted to get more Dom Sexy Face in there.
And more Dom sexy bums :D
Monday, July 25th, 2016
---
12:08 pm
- Sir and Boy ~ Beating Around the Bush ~ Page 10
I like the idea of James blushing all over his chest as he comes- he's very pale so it's going to show up, like all those pretty marks on his buttocks and back…
Wednesday, July 20th, 2016
---
11:12 am
- Sir and Boy ~ Beating Around the Bush ~ Page 9
Monday, July 18th, 2016
---
11:06 am
- Sir and Boy ~ Beating Around the Bush ~ Page 8
There's something about panel two which makes me feel like some kind of voyeur peering in through the bushes. Which is basically what we're doing dear readers!
If the tension is too much for you then do not sit and squirm- the climax of this story is already available to my $5 a month tier on patreon!
Wednesday, July 13th, 2016
---
1:16 pm
- Sir and Boy ~ Beating Around the Bush ~ Page 7
Are we ready for some things hitting naked flesh? Because we're about to enter NSFW territory....
Monday, July 11th, 2016
---
2:13 pm
- Sir and Boy ~ Beating Around the Bush ~ Page 6
I realised I rarely draw kissing in this series so it was about damn time. James is such a fiery boy, it was a lot of fun drawing him slutting out on the bench in panel 3.
Also lip biting.
That page has a lot going for it. Enjoy! :D
Friday, July 8th, 2016
---
12:39 pm
- Wane Kebank the Whatever Wizard- part 2!
I've realised that the minority monsters comics have dealt with a lot of things about gender but not much about trans issues so this is a nice little comic to make the T in alphabet soup land a little bit larger.
Wednesday, July 6th, 2016
---
12:48 pm
- Sir and Boy ~ Beating Around the Bush ~ Page 5
I heard you liked some more erotic tension! The script for this page genuinely has the words 'JOHN UP IN HIS BUSINESS' to describe what's going on. Am I the only one who finds the moment before kissing to be far more charged and erotic than actual tongue action?
Next update is monday but if you want to see what happens next check out my patreon!
Wednesday, June 29th, 2016
---
1:26 pm
- Sir and Boy ~ Beating Around the Bush ~ Page 3
http://www.discordcomics.com/comic/sir-and-boy-beating-around-the-bush-page-3/

This is of course about hurting in a sexual context. Yessss hurty men yess

Irish readers! I'll be in Dublin this weekend for Ireland MCM- come by and say hi! Last year I got a message after from a fan to say 'some people' were selling my minority monster t-shirts in Dublin- that wasn't art theft, it was meeeeee.
Tuesday, June 28th, 2016
---
10:27 am
- Sir and Boy ~ Beating Around the Bush ~ Page 2
HICKIES! WAISTCOATS! BUCKETS!
And the less said about tweed with braces the better…
See you wednesday! Until then you'll have to ponder what James has been working up the courage to ask, or you can join the patreon for the full story
Friday, June 24th, 2016
---
11:54 pm
- Saucy Tea Threeway Giveaway!
After a couple of redraws of winners that didn't claim their prize the saucy tea give away has finally been sent out! Congrats to Sophia Stone on facebook, m.e.gibbs on twitter and cautionflyingpigs on tumblr!
The t-shirts are now all back in stock in the shop! If you're outside of the UK now is the time to buy- due to the pound crashing today after the results of the EU referendum you'll be paying up to 10% less than you normally would...
Wednesday, June 22nd, 2016
---
1:09 pm
- Bringing the free book fund to a close
Back in February I posted up information for the Shades of A free book fund, a system where for every £35 copy of the shades of A omnibus sold I would spend £10 into shipping copies of the book to organisations, libraries and individuals over the world.
Unfortunately this system hasn't worked out so well. Since then I've only sold 12 copies of the book, which due to international shipping only raised enough money to send out 8 copies. I've been able to send them out to cool places like the Martin Luther King library and The Center for Sexual Pleasure and Health, but I've got a lot of books sitting at home and I need to get rid of them.
There are a couple of reasons I think the book sales haven't been very high, current theories being:
-Most of the fans who wanted the special book already funded the kickstarter and have a copy.
– £35 is a lot of money compared to £20 for a pair of softback books.
I can't do much about the first problem except pour more money into advertising, but I can do something about the price. I've talked to the kickstarter backers and they're happy for me to drop the free book fund to bring the cost of the book down to £25, which means I'm far more likely to be able to sell it. While this feels unfair to everyone who paid top dollar for the book, I can't sit on 300 books for the next 10 years.
This is a hard post to write but I'll be pushing to get these books into shops over the next few months so I needed to make a proper announcement. For anyone wishing to buy a copy at the new price of £25 they're available in the store, or you can always come say hi at a con for me to sign it for you in person.
To close I'd like to apologise to the 80+ people who signed up for a free book, to thank those who bought the books to send out what little I could and my gratitude once again to everyone who made this book happen.
Kind regards,
-Tab
12:59 pm
- Sir and Boy ~ Beating Around the Bush ~ Page 1
Safe for work!
Dear past me- keep drawing backgrounds, your hard work will pay off eventually and one day you'll draw a victorian green house as easily as you do kawaii manga eyes.
Monday, June 20th, 2016
---
4:20 pm
- Sir and Boy ~ Beating Around the Bush ~ Cover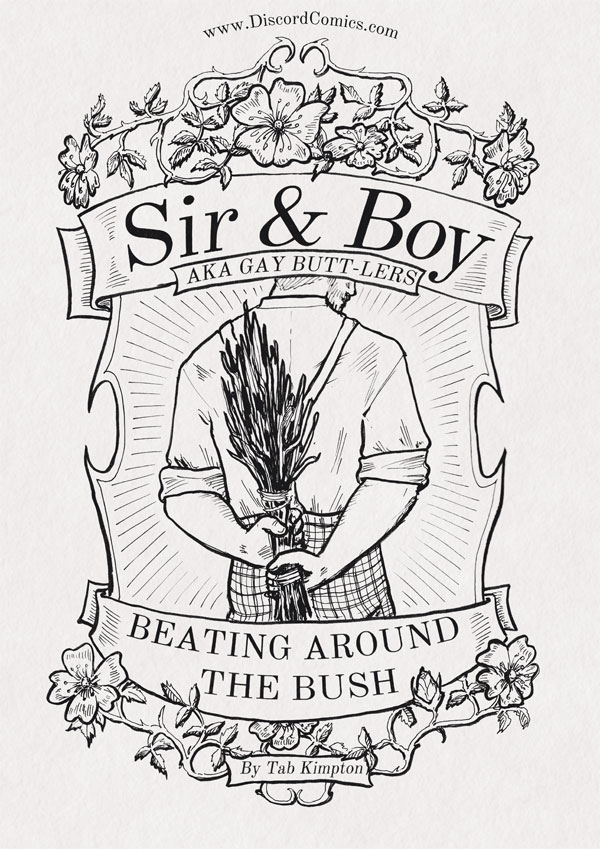 New story starts today! It's a Sir and Boy special featuring hurty men and roses.
This entire story (and one more) is available over on my patreon. As well as helping to support my work (which is really appreciated right now) you'll get extra updates and can help me chose the next stories I'll be doing
Wednesday, June 15th, 2016
---
1:38 pm
- Sir, Butler and Boy ~ Stocks and Bonds ~ END
Next story monday -remember that you can read ahead and support Sir, Butler and Boy over on my patreon!
Monday, June 13th, 2016
---
11:09 am
- Sir, Butler and Boy ~ Stocks and Bonds ~ Page 10
Lovely preview today- very not safe for work and not safe from *feelings*
Remember that you can read ahead and support Sir, Butler and Boy over on my patreon!