Monday, October 12th, 2015
---
10:10 am
- Sir, Butler and Boy ~ A Cream Tea ~ Page 11
http://www.discordcomics.com/comic/sir-butler-and-boy-a-cream-tea-page-11/

PLOT TWIST- they were all consenting adults who cared for each other all along! Dammit yaoi/romance genre, this shouldn't be a plot twist.
I spent ages trying to get this page to flow properly- it's supposed to imply a scene change and I'm still not happy with it, but as it's traditionally drawn, TOUGH TITTIES, this is how it will have to be.
It's a dream of mine to one day sleep in a four poster bed. It's getting to the point that I'm genuinely considering making one myself, not that I don't already have enough house projects going.
Wednesday, October 7th, 2015
---
1:43 pm
- Sir, Butler and Boy ~ A Cream Tea ~ Page 10
Monday, October 5th, 2015
---
10:19 am
- Sir, Butler and Boy ~ A Cream Tea ~ Page 9
Wednesday, September 30th, 2015
---
8:49 am
- Sir, Butler and Boy ~ A Cream Tea ~ Page 8
Monday, September 28th, 2015
---
8:46 am
- Sir, Butler and Boy ~ A Cream Tea ~ Page 7
Wednesday, September 23rd, 2015
---
7:43 pm
- Sir, Butler and Boy ~ A Cream Tea ~ Page 6
http://www.discordcomics.com/comic/sir-butler-and-boy-a-cream-tea-page-6/

I'm not sure if I mentioned before, but while the text on this page is so filthy I'm almost embarrassed about it, gay smuttlers (another title I enjoy calling it) won't be showing genitals. This is because I think it's hotter to imply more than brazenly show, and it means you can imagine whatever parts you want there.
Sunday, September 20th, 2015
---
12:01 am
Wednesday, September 9th, 2015
---
9:21 am
- Sir, Butler and Boy ~ A Cream Tea ~ Page 2
NSFW but you don't actually see anything? 3 pages in and we're straight to the finger banging. I told you this would be classy.
The website no longer has the latest post on the main page because I don't want to scare people off with the smut!
Tuesday, September 8th, 2015
---
10:26 am
- Omnibus Kickstarter Giveaway!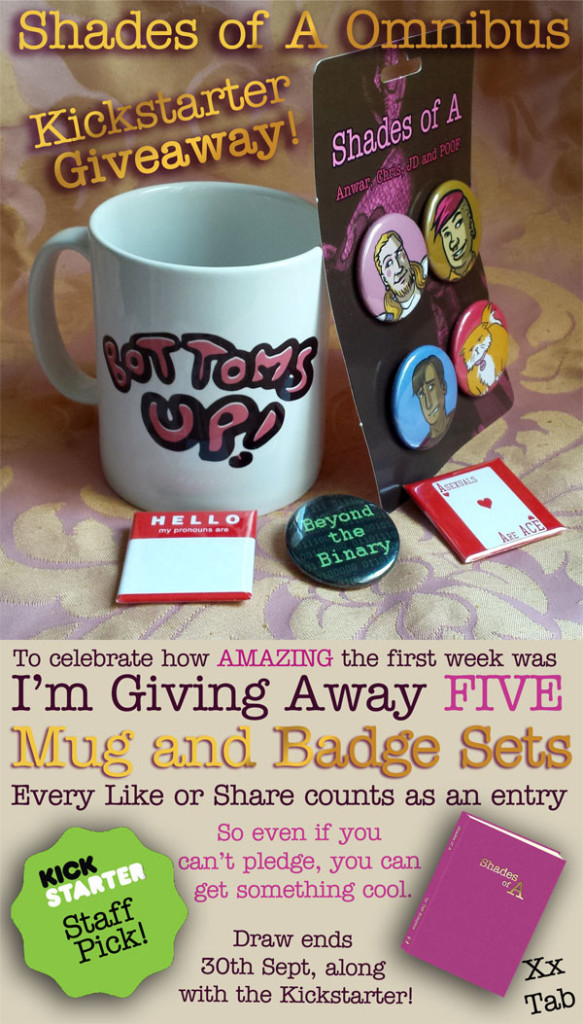 At the time of writing the kickstarter is 62% funded, most of which was in the first 2 days! As a thank you for all your support I'm doing a give away over on Facebook, Tumblr or Twitter, pick your poison!

RULES
– like or comment on facebook, tumblr or twitter to enter. If you share that would be lovely as more people have a chance to win one, but that's not required to enter.
-This giveaway is in no way connected, endorsed or administered by facebook, tumblr or twitter and they are not held liable.
-Enter as many times as you like, but you can only win one mug+badge set.
– On Sept 30th Midnight I'll close all the entries across all the social media, count up the total and use a random number generator to select 5 winners.
-I'll contact the winner using their entry method, if I don't hear anything back in 3 days I'll redraw. People on Facebook remember to look in your 'other' folder, and make sure your ask box is open on tumblr!
-Anyone is eligible to enter as long as I can post a thing to them.

Much love, Tab.
Monday, September 7th, 2015
---
8:06 am
- Sir, Butler and Boy ~ A Cream Tea ~ Page 1
I heard you liked hand porn, so I drew you some hand porn.
In super fantastic-holy-shit news the Shades of A Omnibus kickstarter is already over half way to it's goal!
Wednesday, September 2nd, 2015
---
11:18 am
- Sir, Butler and Boy ~ A Cream Tea ~ Cover
The start of a new series! This comic is pretty filthy. I've made the choice to not show genitals so it won't be 18+, but the implied smut is STRONG in this one.
Please hold judgement until the end of the chapter, the ending gives a lot of context to the story. The 'Boy' in this is actually 21 and I promise you that this isn't going into creepy or non-con territory- you'll see what I mean by page 11!
I've decided to go back to traditional media and do these on A3 board, which makes it look seriously nice to hold in real life. The scan loses a lot of the texture so I've added some back in- here's to a black and white comic!
Hope you enjoy,
Xx Tab
Tuesday, September 1st, 2015
---
12:49 pm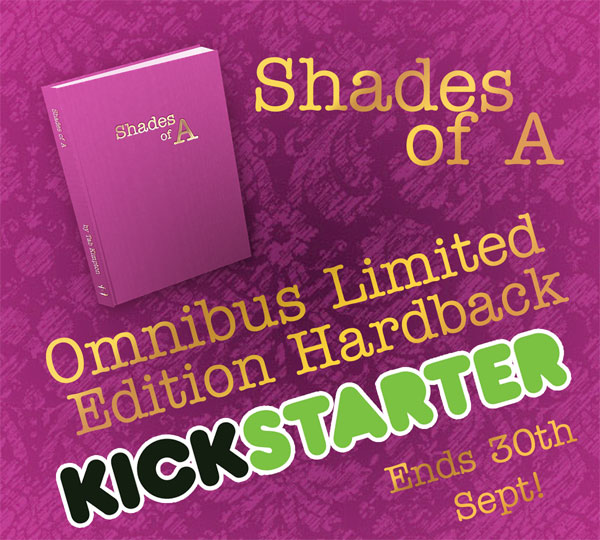 The Kickstarter is now LIVE!

Fancy book lovers this one is for you- we now have just under 30 days to fund and make this gorgeous book a reality. If you can't pledge but want to help please share the kickstarter about- I'll also be doing some giveaways over the next 4 weeks so look out for those!
Monday, August 31st, 2015
---
11:35 am
- Final page of Shades After-series complete!
Last ever page of shades of a!

http://www.discordcomics.com/comic/shades-after-page-113/

Check back tomorrow for the kickstarter omnibus release and Wednesday for the site update for the next comic series.

It's been a grand couple of years, thank you so much for reading. I hope you enjoyed Shades and I encourage people to give it an archive binge and read cover to cover now that the series is complete.

My next series, Gay Buttlers won't be everyone's cup of tea, but I'll only be writing this one for about a year while I work on the script for my next romance epic.

Much love, Tab.
Wednesday, August 26th, 2015
---
9:27 am
- Shades After page 112
http://www.discordcomics.com/comic/shades-after-page-112/

ACTUAL penultimate page! This is all basically scenery porn- when Shades started out I wanted to use it as a time to really improve the way I drew backgrounds, so it's fitting for me to close it with something showing that. That's an actual london underground station, see if you can guess which! The house is based on a friend's who lives in london, though like reasonable people they can only afford a flat which covers half of it XD

Potential names for Anwar's cat are Pie, Spades or Ace- though feel free to suggest something else in the comments.

This weekend I'm at Dublin MCM comic con, then it's the Last page Monday!
Monday, August 24th, 2015
---
8:12 am
- Shades After page 111
Monday, August 10th, 2015
---
9:05 am
- Shades After page 107
Social media is back!
Chris understands that partners should never hold each other back, only push the other person to do better.
Thursday, July 23rd, 2015
---
5:17 pm
- Gary the Gay Griffin and Hank the Heteroflexible Hippogriff
Wednesday, July 22nd, 2015
---
10:55 am
JD is the sensible one, always has been.
I'm at Manchester MCM comic con this weekend- it was an amazing show last year, looking forward to it!
Monday, July 20th, 2015
---
11:34 am
- Shades After page 101
Wednesday, July 15th, 2015
---
10:43 am
- Shades After page 100
http://www.discordcomics.com/comic/shades-after-page-100/
Happy page 100!
This Friday I'll be posting the final page of Shades After over on my Patreon, ending on lucky 113.
https://www.patreon.com/TabKimpton
For those of you who don't know, Patreons who give $5 or more get 3 updates a week so they've steadily been getting further and further ahead- if you can't wait I recommend checking it out!
The pages will continue as normal 2 times a week on Discord- at this rate you should get the end by the start of September, ready for the kickstarter launch for book 2 and a super sexy hardback omnibus edition.
My next project coincides with my move to Manchester- this friday I'll own a house there, and with all the renovations I'm doing I've decided to move onto something using more traditional media so I can bring it with me wherever I am. I've decided to take a break from angst and just draw smut for a little while. My next series will be called Gay Buttlers/Sir, Butler and Boy which will last for about a year while I gather the feelings for a longer story.
TLDR


Shades is officially finished over on the patreon pages.


Shades will update on the main site like normal, Kickstarter for an omnibus to launch in septemeber.


I'm half moving to Manchester, still living in southampton, 6 hour journeys here I come.


Next project is basically just smut, and is called Gay Buttlers with two T's. It will put the BUTT back in Buttler.