Monday, August 31st, 2015
---
11:35 am
- Final page of Shades After-series complete!
Last ever page of shades of a!

http://www.discordcomics.com/comic/shades-after-page-113/

Check back tomorrow for the kickstarter omnibus release and Wednesday for the site update for the next comic series.

It's been a grand couple of years, thank you so much for reading. I hope you enjoyed Shades and I encourage people to give it an archive binge and read cover to cover now that the series is complete.

My next series, Gay Buttlers won't be everyone's cup of tea, but I'll only be writing this one for about a year while I work on the script for my next romance epic.

Much love, Tab.
Wednesday, August 26th, 2015
---
9:27 am
- Shades After page 112
http://www.discordcomics.com/comic/shades-after-page-112/

ACTUAL penultimate page! This is all basically scenery porn- when Shades started out I wanted to use it as a time to really improve the way I drew backgrounds, so it's fitting for me to close it with something showing that. That's an actual london underground station, see if you can guess which! The house is based on a friend's who lives in london, though like reasonable people they can only afford a flat which covers half of it XD

Potential names for Anwar's cat are Pie, Spades or Ace- though feel free to suggest something else in the comments.

This weekend I'm at Dublin MCM comic con, then it's the Last page Monday!
Monday, August 24th, 2015
---
8:12 am
- Shades After page 111
Monday, August 10th, 2015
---
9:05 am
- Shades After page 107
Social media is back!
Chris understands that partners should never hold each other back, only push the other person to do better.
Thursday, July 23rd, 2015
---
5:17 pm
- Gary the Gay Griffin and Hank the Heteroflexible Hippogriff
Wednesday, July 22nd, 2015
---
10:55 am
JD is the sensible one, always has been.
I'm at Manchester MCM comic con this weekend- it was an amazing show last year, looking forward to it!
Monday, July 20th, 2015
---
11:34 am
- Shades After page 101
Wednesday, July 15th, 2015
---
10:43 am
- Shades After page 100
http://www.discordcomics.com/comic/shades-after-page-100/
Happy page 100!
This Friday I'll be posting the final page of Shades After over on my Patreon, ending on lucky 113.
https://www.patreon.com/TabKimpton
For those of you who don't know, Patreons who give $5 or more get 3 updates a week so they've steadily been getting further and further ahead- if you can't wait I recommend checking it out!
The pages will continue as normal 2 times a week on Discord- at this rate you should get the end by the start of September, ready for the kickstarter launch for book 2 and a super sexy hardback omnibus edition.
My next project coincides with my move to Manchester- this friday I'll own a house there, and with all the renovations I'm doing I've decided to move onto something using more traditional media so I can bring it with me wherever I am. I've decided to take a break from angst and just draw smut for a little while. My next series will be called Gay Buttlers/Sir, Butler and Boy which will last for about a year while I gather the feelings for a longer story.
TLDR


Shades is officially finished over on the patreon pages.


Shades will update on the main site like normal, Kickstarter for an omnibus to launch in septemeber.


I'm half moving to Manchester, still living in southampton, 6 hour journeys here I come.


Next project is basically just smut, and is called Gay Buttlers with two T's. It will put the BUTT back in Buttler.


Monday, July 13th, 2015
---
11:13 am
- Shades After page 99
It's not official until it's on facebook!
Wednesday, July 8th, 2015
---
1:35 pm
- Shades After page 98
Online dating- sometimes works, sometimes the only people you find interesting online are asshats. It's a mixed bag!
Thursday, July 2nd, 2015
---
6:03 pm
- Sir Gorgon the Gender Warrior
http://www.discordcomics.com/minoritymonsters/17-sir-gorgon/

I look about at all the awesome people battling gender norms and as much as I want to be a warrior, I'm more a worrier.

This is a comic for everyone who has spent several hours pondering questions such as 'Do I like pink because it's a nice colour, or because it's edgy for a man to wear it?' 'Fuck gender norms, wait what are the norms anyway? By doing the exact opposite am I just playing to a different stereotype?' and the classic 'Have I ironically done something so hard it's now not even a joke?'

Vote for July's monster!




What Monster should I do next?
Wednesday, July 1st, 2015
---
9:18 am
- Shades After page 96
http://www.discordcomics.com/comic/shades-after-page-96/
Interesting that while I was writing these pages I thought the comments would lean in Chris' favour, you've surprised me by being more on Anwar's side than I expected.
While writing this I was like 'everyone should be directly apologising for the things' but every way I tried to word it sounded fake and like a bad sitcom. I think people say they're sorry with body language more than words in real life, I hope this comes across here.
Wednesday, June 24th, 2015
---
12:07 pm
- Shades After page 94


Turns out you can make manga studio do custom patterns, which makes doing a tiled bathroom about 1000% easier.
Wednesday, June 10th, 2015
---
9:25 am
- Shades After page 90
http://www.discordcomics.com/comic/shades-after-page-90/

Get your conflict pants on Discordians, it's time these two talked about this.

Last update before I'm off to NYC for Flamecon- if you haven't seen I'm doing a T-shirt giveaway of the Gender nebula shirts to celebrate!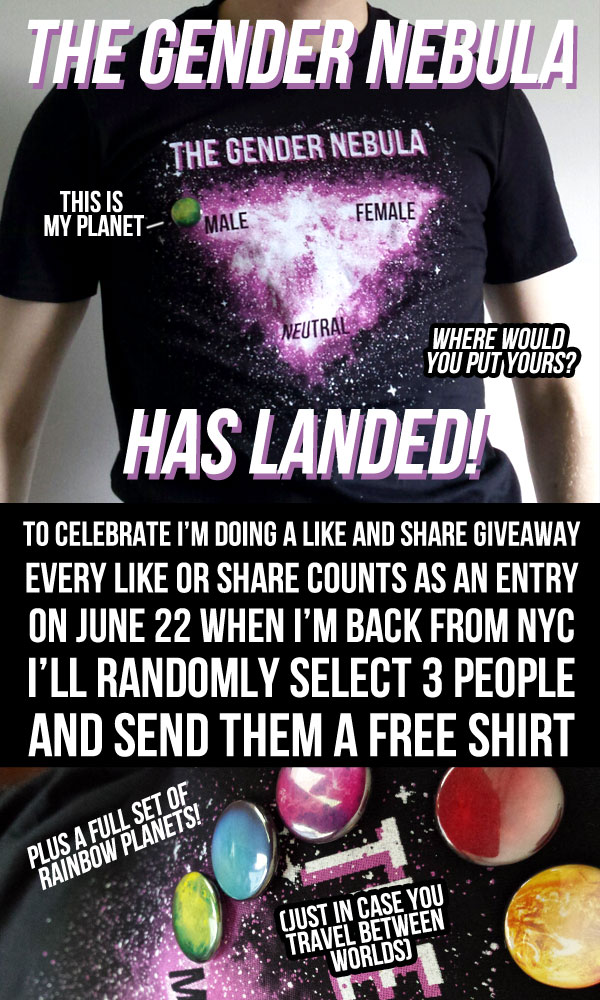 Remember the nebula shirt? I simplified the colour scheme down using a purple/pink (my favourite) and took a chance on it- yesterday they turned up and they look AMAZING. These will debut this weekend at Flamecon in NYC, and to celebrate before they're available in the store I'm doing a giveaway.

RULES
- like or comment on facebook, tumblr or twitter to enter. If you share that would be lovely as more people have a chance to win one, but that's not required to enter.
-This giveaway is in no way connected, endorsed or administered by facebook, tumblr or twitter and they are not held liable.
-Enter as many times as you like, but you can only win one shirt+badge set.
- On June 22 midday I'll close all the entries across all the social media, count up the total and use a random number generator to select 3 winners.
-I'll contact the winner using their entry method, if I don't hear anything back in 3 days I'll redraw.
-Anyone is eligible to enter as long as I can post a thing to them!

See ya at Flamecon!
Monday, June 8th, 2015
---
9:48 am
- Shades After page 89
Parents. Sometimes they don't agree with what you're doing but all you can do is be as ridiculously happy as possible and they'll slowly come around.
In less than a week I'll be in new york for Flamecon! I've shipped my books to my partner in crime, and we'll see you there- turns out you can make a case weigh over 25kg with books quite easily…
Thursday, June 4th, 2015
---
11:55 pm
New Fan Stuff section is up and running-
There's some amazing stuff up on there, including a Jamie/Tom fanfic, a map of Alphabet soup land, a summary of Khaos in 31 panels and some outstanding people who actually tattooed stuff on themselves! :O
Remember- send a fan thing in this June and I send you a pretty wallpaper as a thank you!
Wednesday, June 3rd, 2015
---
11:00 am
- Shades After page 88
Finally getting the hang of colouring with gradients again- it's a complete rejig of all my shortcuts but I'm very happy with the results.

I tried to imply that Nadeeda has just come from a day at the hospital- doctors in the UK tend to wear their own clothes except for surgery, but have security cards for computer access and ID.
Tuesday, June 2nd, 2015
---
2:43 pm
- Khaos Fanart Recall!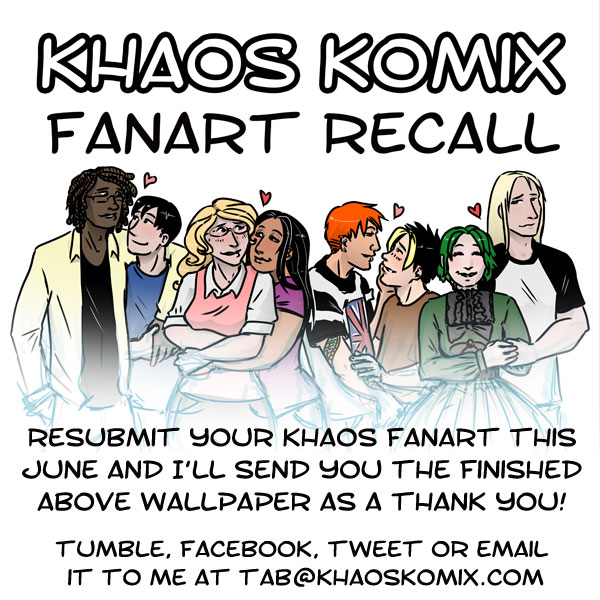 Heya, remember Khaos Komix? It was my first comic spanning over 6 years and 600 pages, featuring Lesbian, Gay, Bisexual and Trans main characters- a comic about falling in love and learning to love yourself despite the rest of the world. It used to be hosted on KhaosKomix.com until this March I kinda...broke the site.

The comics are now back up on Discord Comics, along with a couple of the saucy side stories from the 2013 kickstarter. But moving them across I lost all of the fan art I collected over the years. With your help I'd like to try to get it back.

If you ever did me the honour of scribbling any of the Khaos cast, or ANY of my other comics (yes, that means Shades of A or Minority Monsters too!) please Tumble, facebook, tweet or email it back to me along with how you'd like me to credit you (I'm super happy to link to your art page too) and I can get it back up on the site. As a big ol' thank you I'll send you a cute as pie wallpaper of the 8 main cast, to remind you of simpler, adorable times.

If you've got no fan art to submit, now is the time to get drawing! I'll also accept fanfiction, cross stitch, fingerpuppets, stone carvings- Whatever takes your fancy. You can also help by sharing this about as much as possible so we can find the old Khaos fans who have gone to the far reaches of the internet.

Much love, from past and future.

xX Tab
Monday, June 1st, 2015
---
11:54 am
- Shades After page 87
Saturday, May 30th, 2015
---
9:39 pm
- M. GlitterKitten the Werewolf Switch
http://www.discordcomics.com/minoritymonsters/16-m-glitterkitten/
Here's the minority monster for May! I tweaked their name a bit and had a couple of redesigns. It's pretty hard to think of a wolf design that's unique but I grabbed some inspiration from 80's hair and an outfit that could be worn in both forms.
Vote for June here!