Thursday, July 2nd, 2015
---
6:03 pm
- Sir Gorgon the Gender Warrior
http://www.discordcomics.com/minoritymonsters/17-sir-gorgon/

I look about at all the awesome people battling gender norms and as much as I want to be a warrior, I'm more a worrier.

This is a comic for everyone who has spent several hours pondering questions such as 'Do I like pink because it's a nice colour, or because it's edgy for a man to wear it?' 'Fuck gender norms, wait what are the norms anyway? By doing the exact opposite am I just playing to a different stereotype?' and the classic 'Have I ironically done something so hard it's now not even a joke?'

Vote for July's monster!




What Monster should I do next?
Wednesday, July 1st, 2015
---
9:18 am
- Shades After page 96
http://www.discordcomics.com/comic/shades-after-page-96/
Interesting that while I was writing these pages I thought the comments would lean in Chris' favour, you've surprised me by being more on Anwar's side than I expected.
While writing this I was like 'everyone should be directly apologising for the things' but every way I tried to word it sounded fake and like a bad sitcom. I think people say they're sorry with body language more than words in real life, I hope this comes across here.
Wednesday, June 24th, 2015
---
12:07 pm
- Shades After page 94


Turns out you can make manga studio do custom patterns, which makes doing a tiled bathroom about 1000% easier.
Wednesday, June 10th, 2015
---
9:25 am
- Shades After page 90
http://www.discordcomics.com/comic/shades-after-page-90/

Get your conflict pants on Discordians, it's time these two talked about this.

Last update before I'm off to NYC for Flamecon- if you haven't seen I'm doing a T-shirt giveaway of the Gender nebula shirts to celebrate!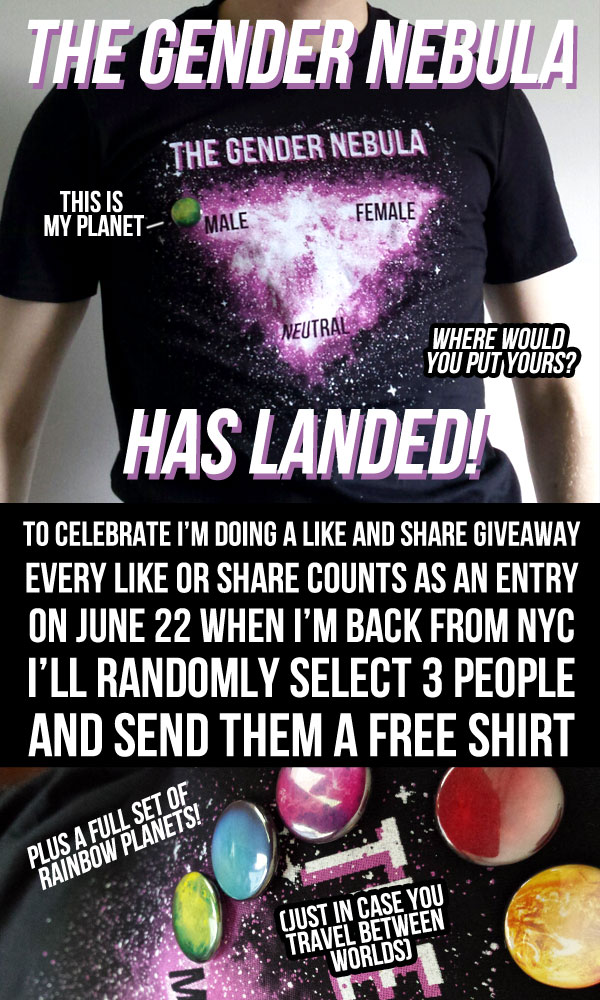 Remember the nebula shirt? I simplified the colour scheme down using a purple/pink (my favourite) and took a chance on it- yesterday they turned up and they look AMAZING. These will debut this weekend at Flamecon in NYC, and to celebrate before they're available in the store I'm doing a giveaway.

RULES
- like or comment on facebook, tumblr or twitter to enter. If you share that would be lovely as more people have a chance to win one, but that's not required to enter.
-This giveaway is in no way connected, endorsed or administered by facebook, tumblr or twitter and they are not held liable.
-Enter as many times as you like, but you can only win one shirt+badge set.
- On June 22 midday I'll close all the entries across all the social media, count up the total and use a random number generator to select 3 winners.
-I'll contact the winner using their entry method, if I don't hear anything back in 3 days I'll redraw.
-Anyone is eligible to enter as long as I can post a thing to them!

See ya at Flamecon!
Monday, June 8th, 2015
---
9:48 am
- Shades After page 89
Parents. Sometimes they don't agree with what you're doing but all you can do is be as ridiculously happy as possible and they'll slowly come around.
In less than a week I'll be in new york for Flamecon! I've shipped my books to my partner in crime, and we'll see you there- turns out you can make a case weigh over 25kg with books quite easily…
Thursday, June 4th, 2015
---
11:55 pm
New Fan Stuff section is up and running-
There's some amazing stuff up on there, including a Jamie/Tom fanfic, a map of Alphabet soup land, a summary of Khaos in 31 panels and some outstanding people who actually tattooed stuff on themselves! :O
Remember- send a fan thing in this June and I send you a pretty wallpaper as a thank you!
Wednesday, June 3rd, 2015
---
11:00 am
- Shades After page 88
Finally getting the hang of colouring with gradients again- it's a complete rejig of all my shortcuts but I'm very happy with the results.

I tried to imply that Nadeeda has just come from a day at the hospital- doctors in the UK tend to wear their own clothes except for surgery, but have security cards for computer access and ID.
Tuesday, June 2nd, 2015
---
2:43 pm
- Khaos Fanart Recall!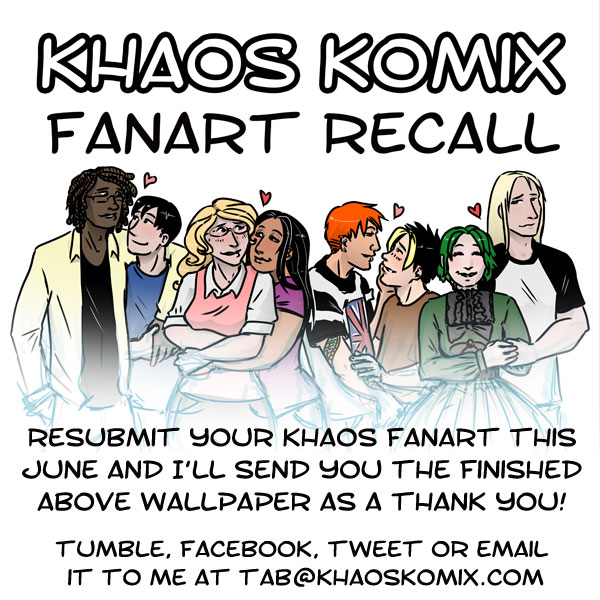 Heya, remember Khaos Komix? It was my first comic spanning over 6 years and 600 pages, featuring Lesbian, Gay, Bisexual and Trans main characters- a comic about falling in love and learning to love yourself despite the rest of the world. It used to be hosted on KhaosKomix.com until this March I kinda...broke the site.

The comics are now back up on Discord Comics, along with a couple of the saucy side stories from the 2013 kickstarter. But moving them across I lost all of the fan art I collected over the years. With your help I'd like to try to get it back.

If you ever did me the honour of scribbling any of the Khaos cast, or ANY of my other comics (yes, that means Shades of A or Minority Monsters too!) please Tumble, facebook, tweet or email it back to me along with how you'd like me to credit you (I'm super happy to link to your art page too) and I can get it back up on the site. As a big ol' thank you I'll send you a cute as pie wallpaper of the 8 main cast, to remind you of simpler, adorable times.

If you've got no fan art to submit, now is the time to get drawing! I'll also accept fanfiction, cross stitch, fingerpuppets, stone carvings- Whatever takes your fancy. You can also help by sharing this about as much as possible so we can find the old Khaos fans who have gone to the far reaches of the internet.

Much love, from past and future.

xX Tab
Monday, June 1st, 2015
---
11:54 am
- Shades After page 87
Saturday, May 30th, 2015
---
9:39 pm
- M. GlitterKitten the Werewolf Switch
http://www.discordcomics.com/minoritymonsters/16-m-glitterkitten/
Here's the minority monster for May! I tweaked their name a bit and had a couple of redesigns. It's pretty hard to think of a wolf design that's unique but I grabbed some inspiration from 80's hair and an outfit that could be worn in both forms.
Vote for June here!
Wednesday, May 27th, 2015
---
10:38 am
- Shades After page 86
It's a silent page today- not something I've done often but nice to have a change of pace.
Monday, May 25th, 2015
---
9:34 pm
- Shades After page 85
Wednesday, May 20th, 2015
---
11:05 am
- Shades After page 84
So much fun with the latest version of manga studio- it's a beautiful program but it also fails completely at exporting files, and the learning curve is steep!
I'm now putting THREE updates a week up on Patreon, so if you want extra pages head over there- it's taken me a couple of months to get used to what I can and can't offer, but now as well as a monthly livestream I'm adding an extra update on Friday. You can check it out here:
https://www.patreon.com/TabKimpton
Also I'm at MCM London Comic Con this weekend! Looking forward to seeing the old gang, and new faces too. :D
Tuesday, May 19th, 2015
---
4:39 pm
- MCM London Comic Con!
Exciting times- here's my location for MCM London Comic Con!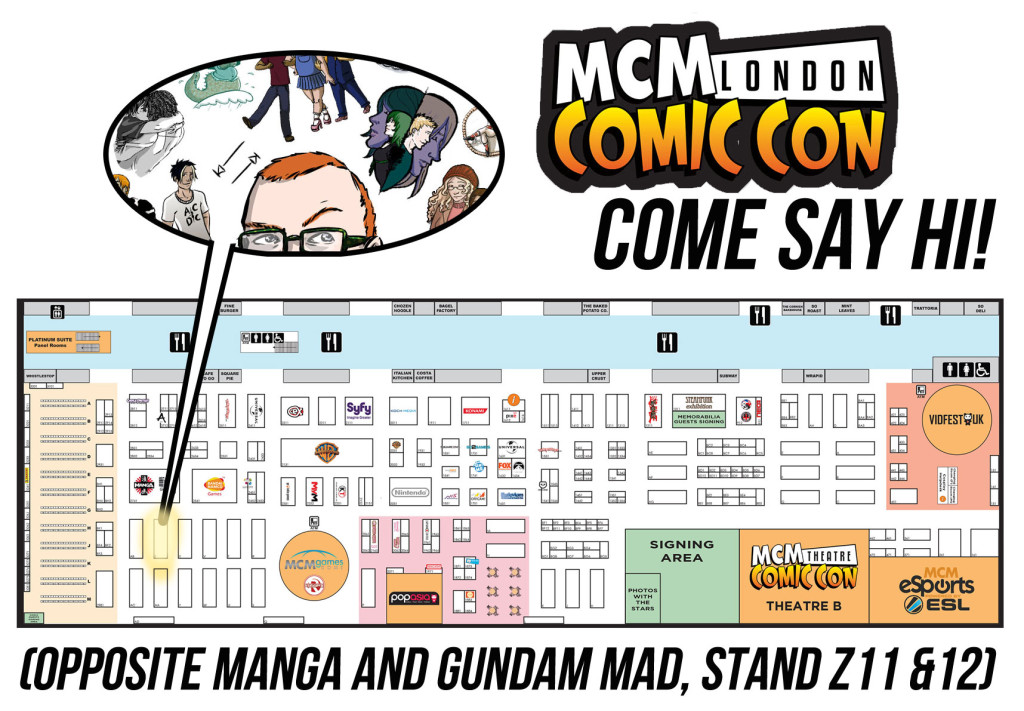 As well as my usual wares I've got 100 of these mini minority monster comics to give away- they're adorably tiny!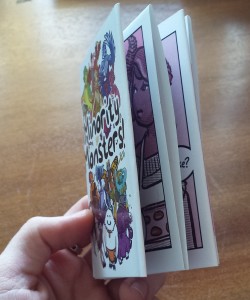 Monday, May 18th, 2015
---
11:09 am
- Shades After page 83
This page is brought to you by my new shiny edition of manga studio, which I've now got thanks to you guys! I had some teething problems getting files saved but there's so many useful tools (3D posing models, perspective lines, bubble tools, better colour swatches, gradients) that I'm looking forward to figuring out what I can do. Hope you enjoy!
Wednesday, May 13th, 2015
---
1:51 pm
- Shades After page 82
Yeeeesh, remember that therapy is only as good as the therapist involved. Anyone else ever had their sexuality/gender explained away as a psychological issue?
Monday, May 11th, 2015
---
10:33 pm
- Shades After page 81
Hazel is a smart kid. I feel like she's taken the peace keeper role in all the messy divorce business, which is both a good and bad thing.
Friday, May 8th, 2015
---
5:05 pm
- Manga studio EX5!


Yesss! Finally the eyedropper tool! I started using the glory that is manga studio several years ago. It's not a perfect program but it's inexpensive and has the best inking tool I've ever used.
This purchase is thanks to all the lovely people over on my patreon, I started it a couple of months ago and this was my first goal! If any of you are interested it's over here:
https://www.patreon.com/TabKimpton
Wednesday, May 6th, 2015
---
9:50 am
- Shades After page 80
Am I the only one who gets excited about round numbers? Happy page 80!
Here's some awkward renegotiation of boundaries between a parent and child. I don't know about other people but when I'm pissed off at someone my personal space bubble gets twice as large.
Monday, May 4th, 2015
---
10:32 am
- Shades After page 79